Do you love Sushi as much as I do? Do you want to eat authentic Nigiri and Maki just like in Japan but cannot travel there right now? And have you ever wondered where to get your fare share of authentic Japanese Sushi when in Vienna? The most delicious option is a small authentic shop with less than ten seats: the Sushi Bar Kojiro Fish Shop near the Naschmarkt.
There are lots of opportunities to eat Japan's probably most well known food export in Vienna. For example in one of the countless Chinese and a handful Japanese restaurants. You will also find lots of takeaway places in subway stations where you can grab a Sushi set next to fried noodles, pizza and fried sausages on your way home after a long and exhausted day at work.
Is it even possible to get genuine Sushi in Austria?
There is a significant difference between Sushi in Japan and Sushi in Austria:
Because of Austria's location so far away from the ocean, it is a logistic challenge to get genuine fresh fish. As a workaround seafish has to be pre-frozen and imported. So the "freshest" seafish Sushi you will normally get served is pre-frosted, imported, and then slowly defrosted before processed.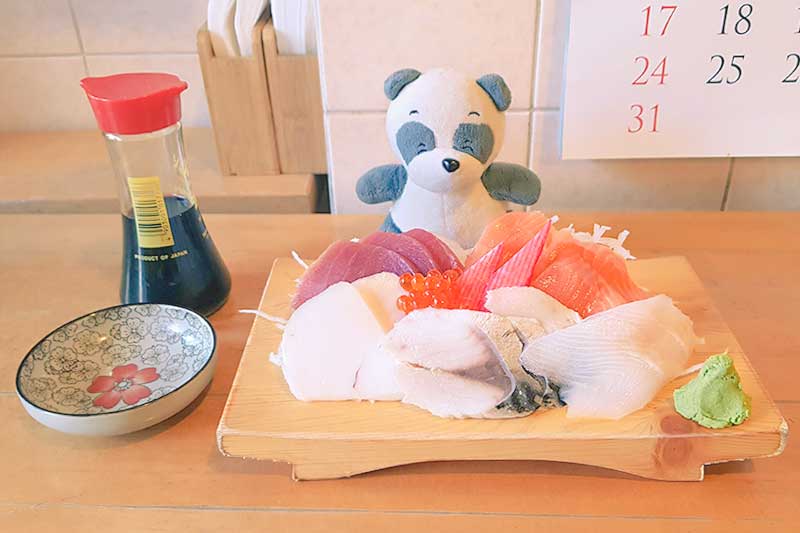 Because of that reason, the most important criteria you need to look for is for high quality and, even better, fish from sustainable sources. Next, the Sushi Chef and their helpers need to know what they are doing. It begins with the choice of fish from the market, deciding on a good type of seaweed, the seasoning of the rice as well as the ratio of rice, wasabi and fish. This is what you need to look for.
Are you still searching for the perfect Sushi in Vienna?
I did for a long time too!
After my first travel to Japan in 2006, I became more picky about authentic Japanese food. Loveless Austrianized rip-offs offered in many Asian restaurants here in Vienna did not satisfy me and my taste buds anymore. So after I moved to Vienna in 2009, my hunt for the perfect Sushi place in my new home city began.
Kojiro Fish Shop – Your search has ended!
I suffered a few setbacks in random stores, where I was served hideous, what they dared to call, "Sushi". Really, I was devastated.
At some point, I thought about giving up, until one of my fellow students introduced a tiny shop called Kojiro, which specializes on Sushi, to me. I was skeptical at first, but because he sang his highest praises on Kojiro, I decided to give it a try.
Long story short: I fell in love with their first Sushi's bite right away.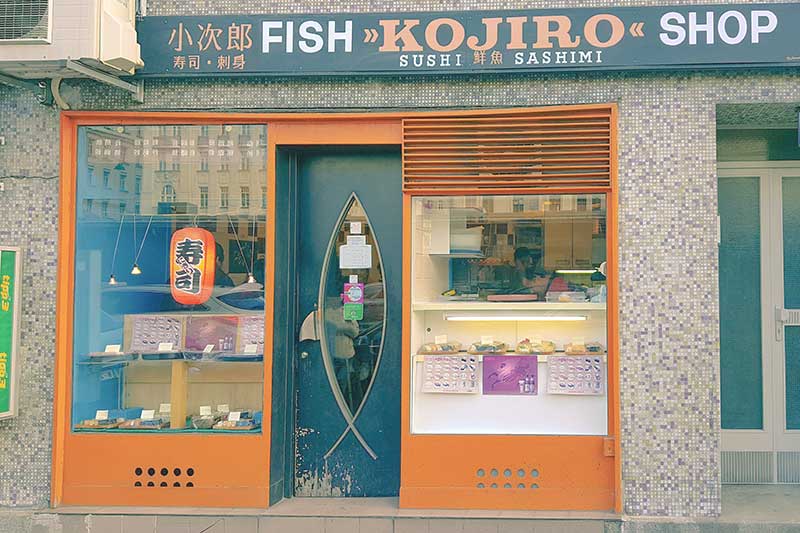 Sushi, Sashimi or Maki?
First of all, you always have to answer the most important question: What do you want to eat? Decide carefully, they prepare your order right in front of you.
When you are as adventurous as me, you will want to try different new foods as often as possible. And you will also struggle on deciding what to get. The menu is large (really, it is a big poster on the wall), and there are lots of specialties aside from the average salmon and tuna Sushi.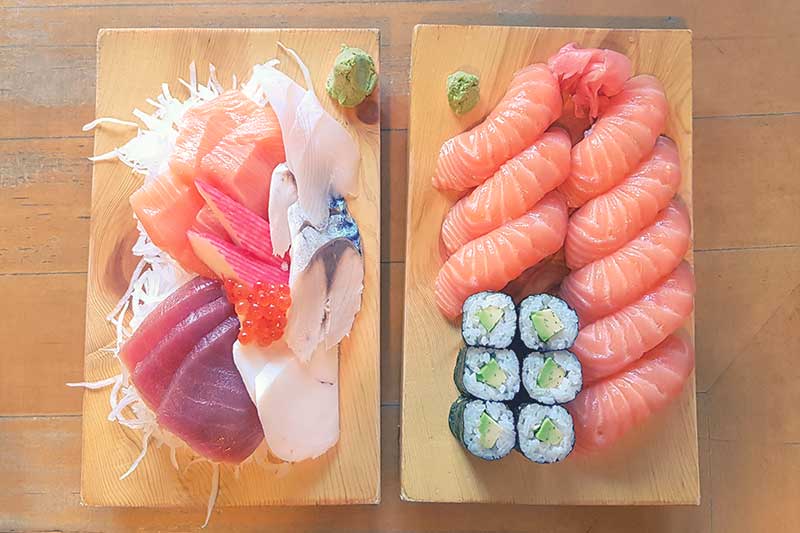 Aside from the boring salmon and tuna nigiri (which are also delicious by the way) they also offer other Sushi specialities which are not as easy to find in Vienna. On Kojiro's menu you can also find Nattomaki, Battera, Oshizushi and Chirashizushi, which are a nice for a change once in a while and are definitely something special.
If you need inspiration: Last time I went there, I treated myself to their Sashimi set as well as two Inarizushi with fried and marinated tofu.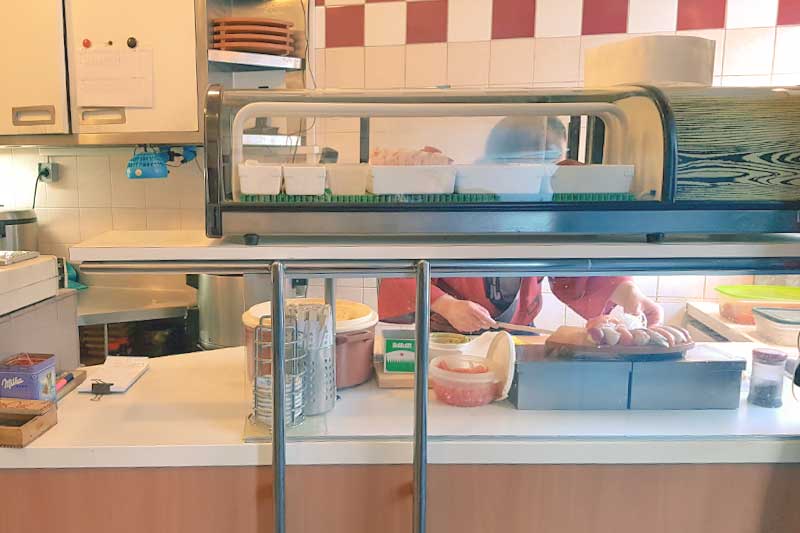 Mister Wong's Foodie Barometer
All together, the staff of Kojiro does a wonderful job in making Sushi. The rice has room temperature, is therefore not too cold, and is seasoned on point. The fish they use is highest quality and so soft that it melts on your tongue. The rice ball is not too big and they are not stingy with the size of the fish pieces.
They also have different vegetarian Sushi pieces, but be careful with the ingrediant list and do your research beforehand. Inarizushi might be prepared with tofu, but they marinate the tofu with fishsauce.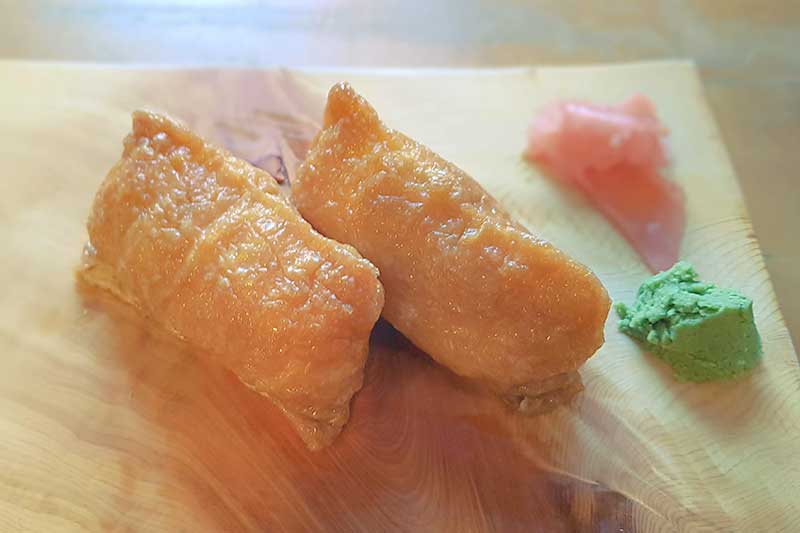 Worth mentioned is that it is rare in Vienna, that they also put a little wasabi between the rice and the fish. They do it just like Sushi chefs traditionally do it in Japan. (If you do not like wasabi, do not forget to tell them beforehand.)
The prices of their Sushi sets lie between nine and 13 Euros, which is perfectly reasonable for the size of the portion and quality. If it is still too pricey for you, you can still opt for a cheaper Maki set though.
To sum it up, I will give them five stars in all of my categories. Their Sushi is over the top delicious, the quality of the food is great and I also feel a little like in Japan when I go there.
Taste: ★ ★ ★ ★ ★
Price: ★ ★ ★ ★ ★
Authenticity: ★ ★ ★ ★ ★
Mister Wong's Sushi-licious Insider Tips
Think about our earth and how overfishing damages our oceans and ecosystem. Eat fish responsibly!
You should prepare yourself for a little wait when you come around for lunch or dinner. They are normally very busy around that time.
You can preorder your Sushi, just give them a call beforehand.
They have limited opening hours and close around 6pm on weekdays and 2pm on Saturdays. They are closed on Sundays and holidays.
Unfortunately, the do not have a website, so here is their address: Kojiro Sushi, Rechte Wienzeile 9, 1040 Vienna. It is located right next to the Naschmarkt, Vienna's most popular market.
Are you looking for more delicious recommendations? How about these?
TATA & Rice Time – Vietmanese Fusion Cuisine
Mochi Ramen Bar – Japanese Ramen
BAO BAR – Taiwanese Bao
ALL REIS – Bangkok Street Food
Mochi – Japanese Fusion cuisine
Liked what you read?
Even if not, please share my story and follow me on all my social media accounts like Instagram, Facebook, Twitter or Pinterest where I only seldom post anything of importance because of major procrastination attacks. At least I plan to post something useful occasionally.

Instagram → https://www.instagram.com/where.is.mrwong/
Facebook → https://www.facebook.com/where.is.mrwong/
Twitter → https://twitter.com/where_is_mrwong/
Pinterest → https://www.pinterest.at/whereismrwong/
Pin it!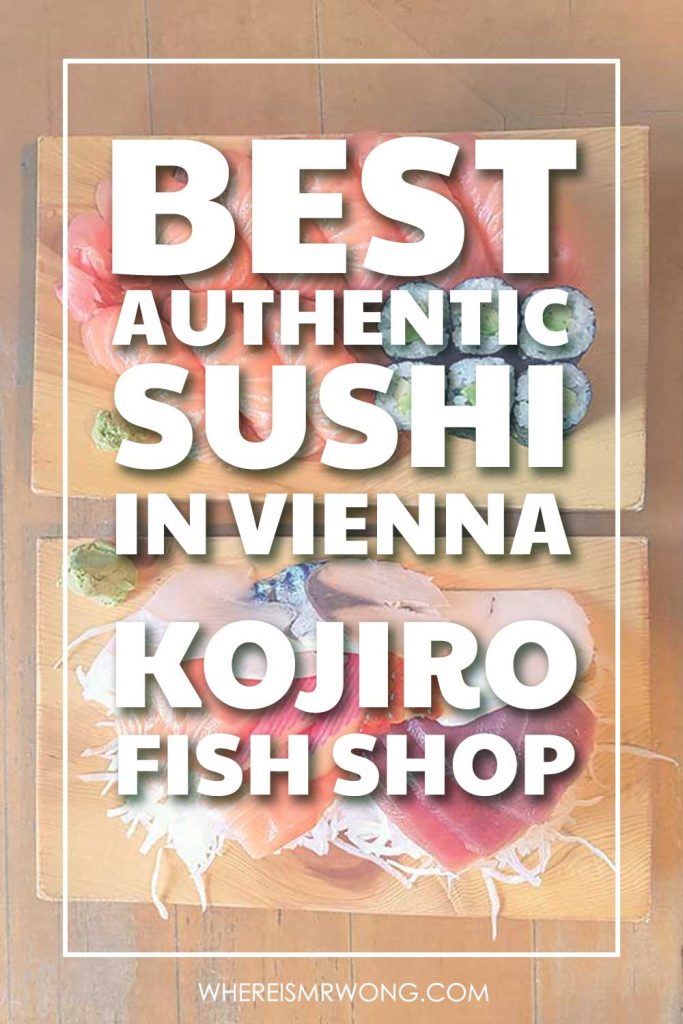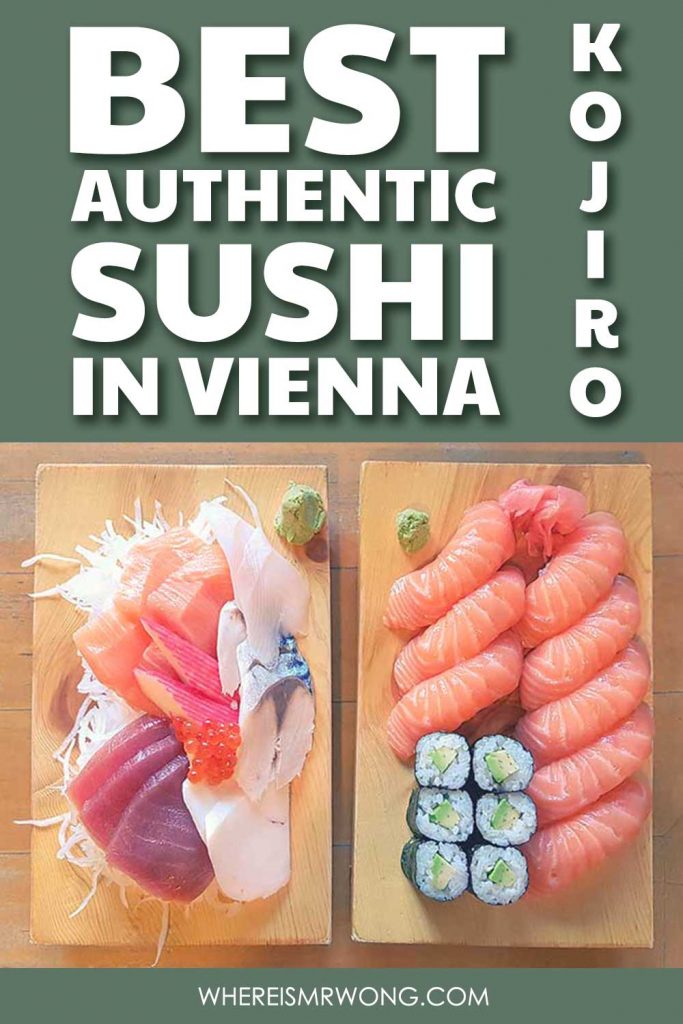 Please Support me!
At the moment I am paying for everything surrounding my blog by myself. If you like what you read, I would really appreciate it if you would book your hotel over the booking.com box. Or buy your next book with my Amazon Link. When you do so, I will get a tiny commission at no extra cost to you. This will help me to maintain my website. Thank you!