When thinking about Singapore, the first thing that comes to my mind is that colossal hotel in shape of a giant cruise ship. I prefer budget over luxury travels. But when I got the chance to travel to Southeast Asia's smallest state, I had to treat myself to a night at Marina Bay Sands and to its infinity pool.
I know that there are people who challenge themselves to get to the infinity pool without staying at Marina Bay Sands, but as I am a honest person, I was opting for the legal way: book a room, enjoy a day in a luxurious room and appreciate the night view while chilling in the humongous infinity pool.
That said, here are a few of my tips of mine on what to keep in mind when planning your stay at Marina Bay Sands.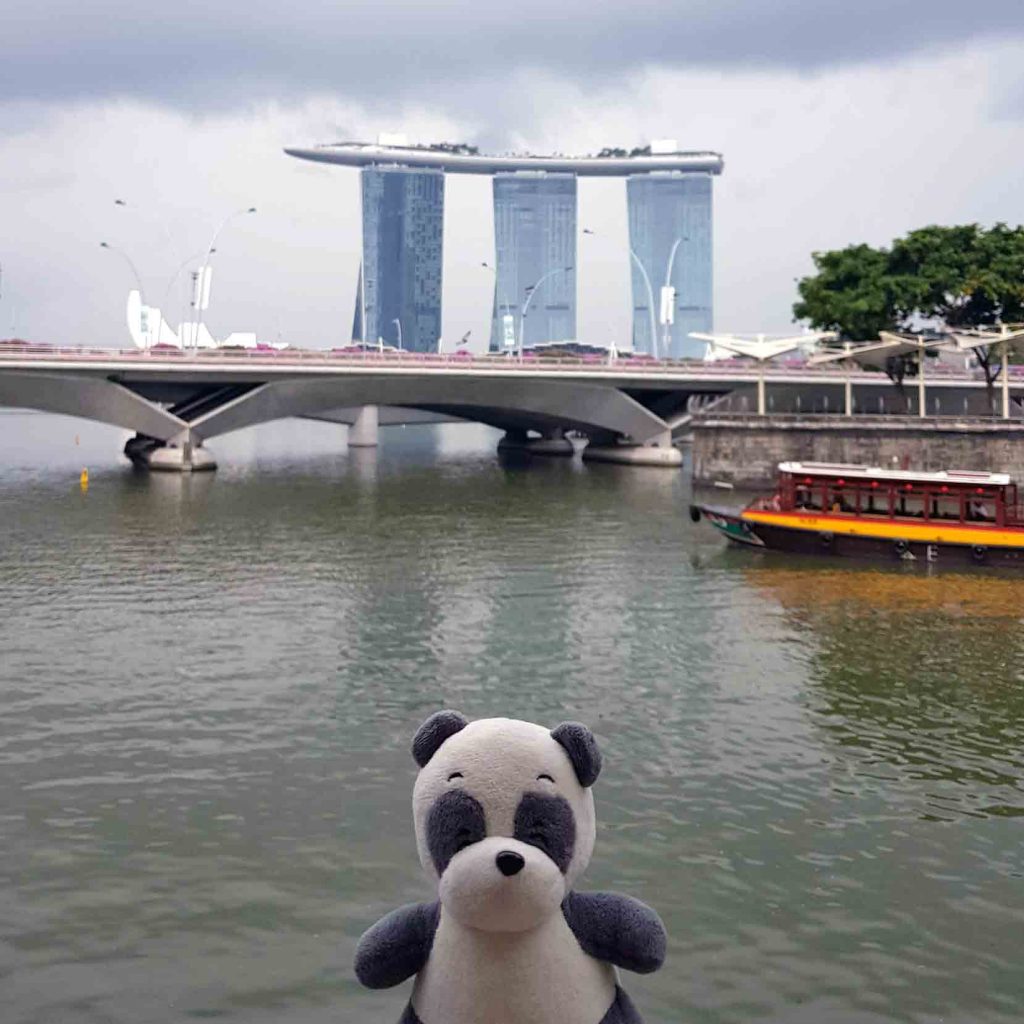 When is the best time to stay at Marina Bay Sands?
We were told that the hotel is busy all around the year, but especially during festival seasons and weekends as well as around national holidays. We therefore decided to stay there off peak period on a normal weekday, namely from a Tuesday to Wednesday. It was busy, but not too crowded for me. It never felt too cramped, not even at the infinity pool on top of the hotel.
If you decide to stay there last minute, check the weather report. We booked a month in advance and had bad weather with thunderstorms. Every time the lightnings started to strike down, we needed to leave the pool area due to safety reasons.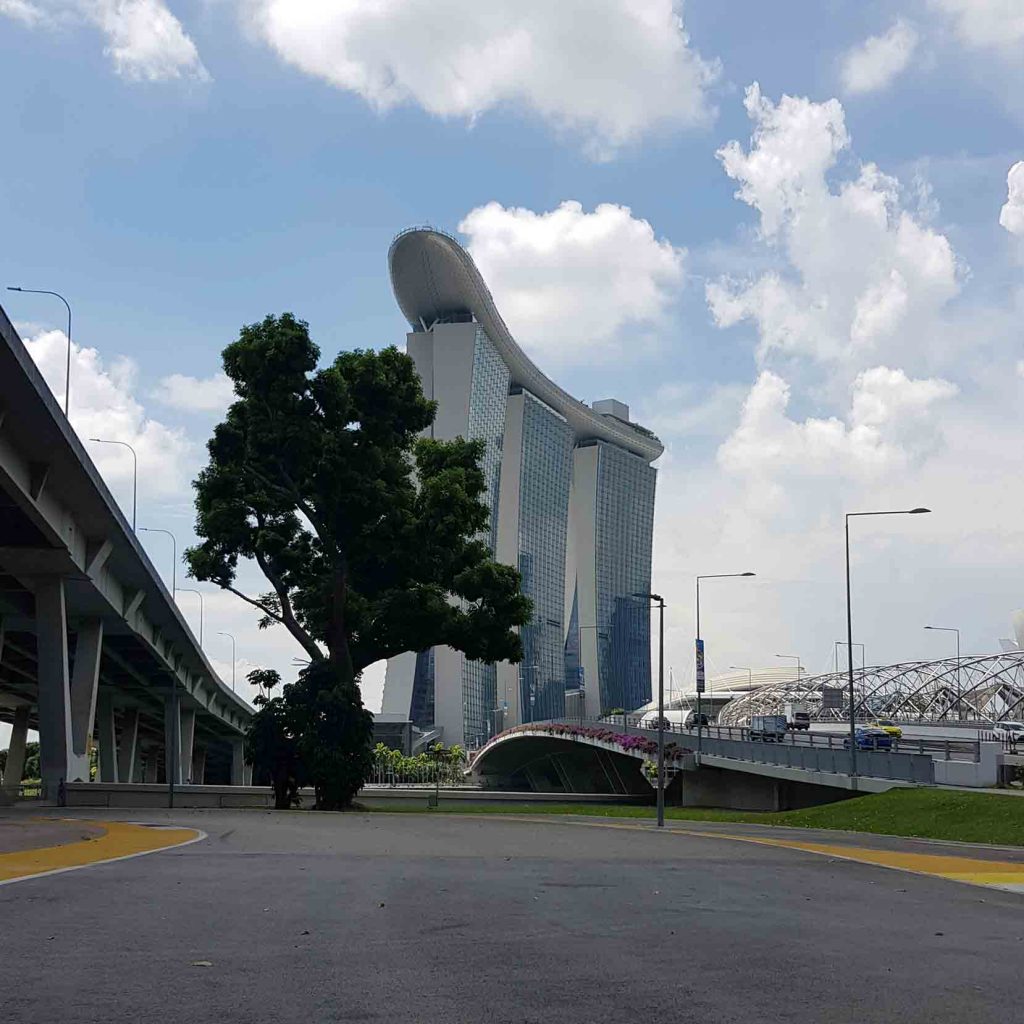 How to book a room at the Marina Bay Sands?
The booking process of one of their more than 2500 rooms was fairly easy. Their official website promises the cheapest prices possible so I decided to book a room there. It seems like they sometimes offer special room rates depending on room occupancy. I checked the rates on different times of the day for various dates and they seemed to change from time to time.
After you have decided on a date and room category, you will be asked which side of the hotel you want to stay at, whether it be skyline or Gardens by the Bay view. We prefered the garden view and did not book any extras like breakfast or dinner options. Why? Because they were just expensive and we would rather eat at one of the many Hawker Centers around Singapore.
Caution! Do not be confused by the prices for a night. They will add the taxes to their already high room rate right before they ask for your credit card information.
After your booking you will receive a confirmation email with all necessary infos about your stay. One important is which tower your check in counter will be. But please read on.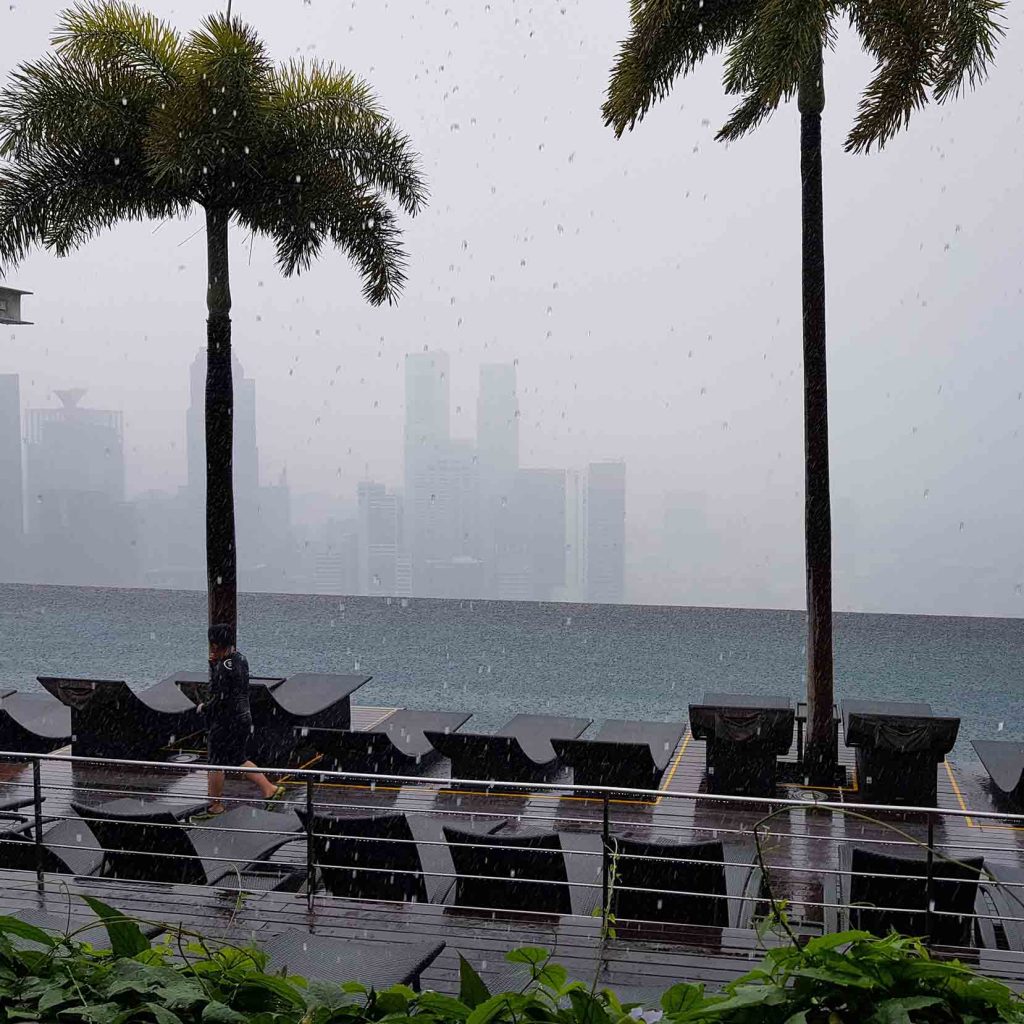 Easy Check in Process
The check in process was easy. We told our Taxi driver to bring us to the tower (there are three) which was stated in the confirmation address I received after my booking. The hotel staff helped us to unload our suitcases and guided us inside to our check in counter. While waiting for a few minutes we were handed bottles with drinking water and mango juice.
We arrived at the hotel at eleven in the morning, and although check in only starts at two o'clock in the afternoon, we were lucky. Our room was ready and we could move in right away. We, as well as our suitcases, were brought to our room by a staff member who also explained all the functions around the room to us.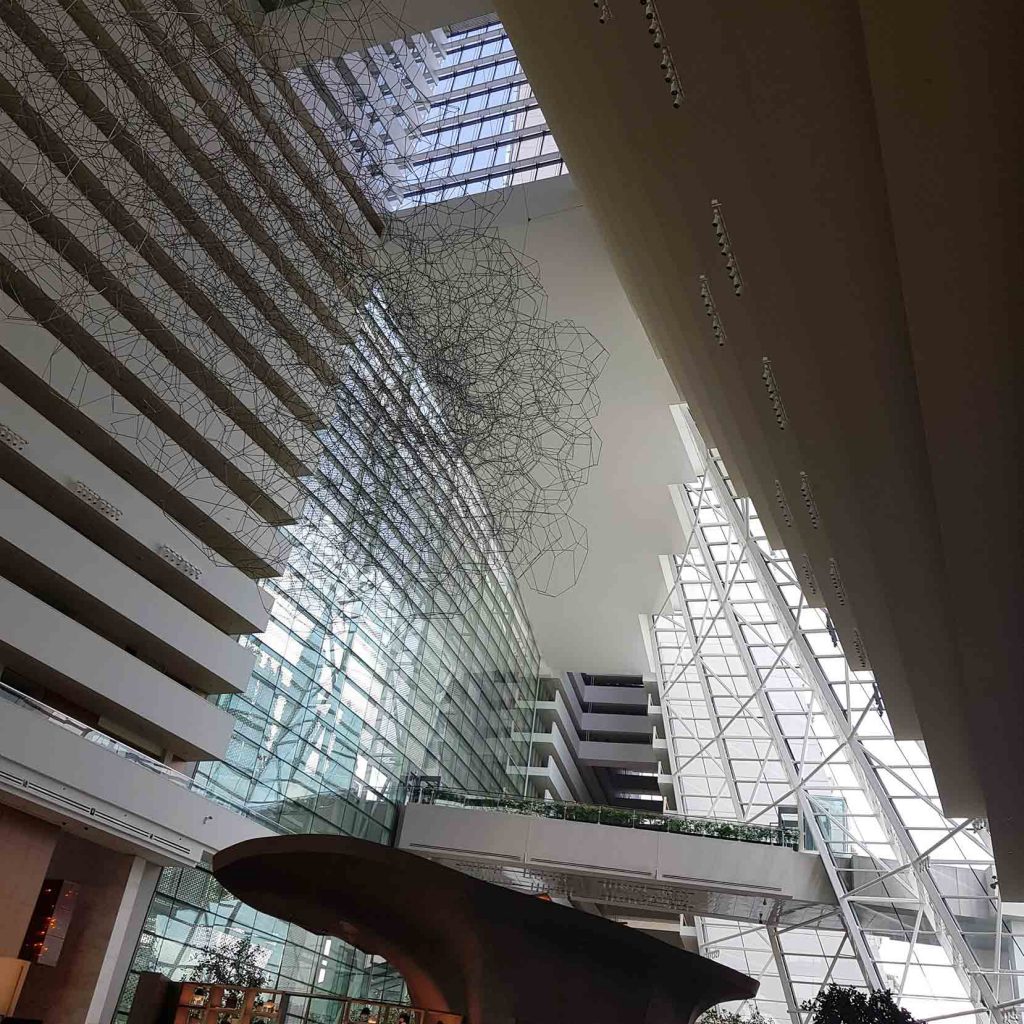 Luggage Storage
If you cannot move in early as we did, Marina Bay Sands offers to store your luggage until your room is ready. Just bring it to the hotel, drop your suitcases of and go enjoy your day until you can finally move in.
Moving in to our room at Marina Bay Sands
We were brought up to our room with our suitcases by a concierge. He guided us to our room and explained the numerous buttons around the room to us as well as how to get up to the infinity pool. Before he left, he answered all our questions and left his name card in case we needed more help.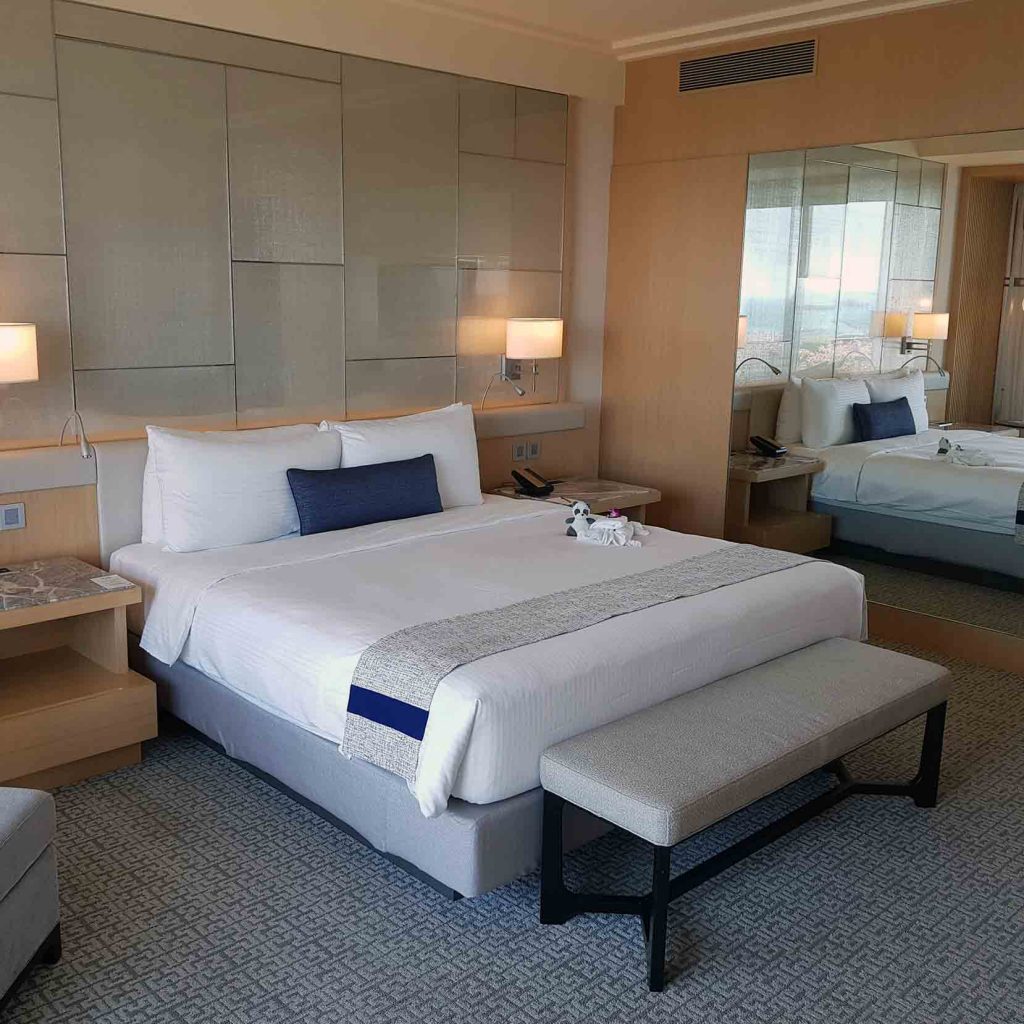 We really liked our room. Everything was neatly done, clean, and we liked our bathtub. The view at the Gardens by the Bay was stunning, although the street at the foot of the hotel was a little noisy. But the noise was acceptable as we stayed inside with the air conditioning on all the time anyway.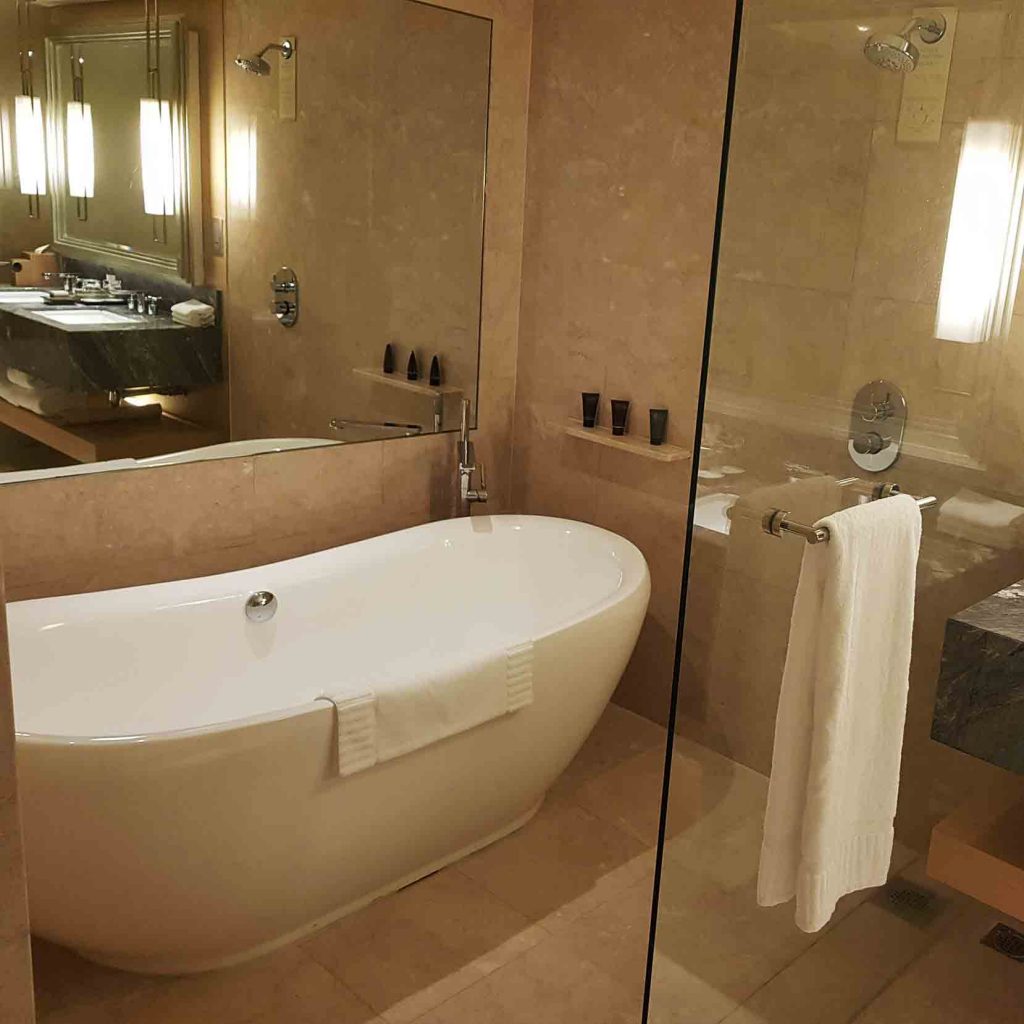 Enjoying Marina Bay Sands' Infinity Pool
As interesting as the modern architecture of Marina Bay Sands with its humongous cruise ship looks, the main reason for us to stay there was its infinity pool. We know that there are countless field reports online on how to enter the pool area without staying there, but we wanted to do it the honest way.
After we successfully checked in early around eleven o'clock, we wanted to check out the pool right away. But because of the bad weather, we could not enjoy the pool right away. A thunderstorm with scary lightning was responsible for the pool area being closed for an hour. After the weather slowed down, we hopped into the pool right away after the area opened again. To warm up afterwards we moved over to the whirlpool.
We checked out the infinity pool as well as their whirl pool at daytime, night time as well as at sunrise which we could not see because of the clouds.
Probably because of us visiting at a weekday as well as the rainy weather there were plenty of deck chairs available.
If you are wondering about what towels to use? You can rent as many beach towels as you like on deck, change your wet with still dryer warm ones, return it there or just bring it to your room with you.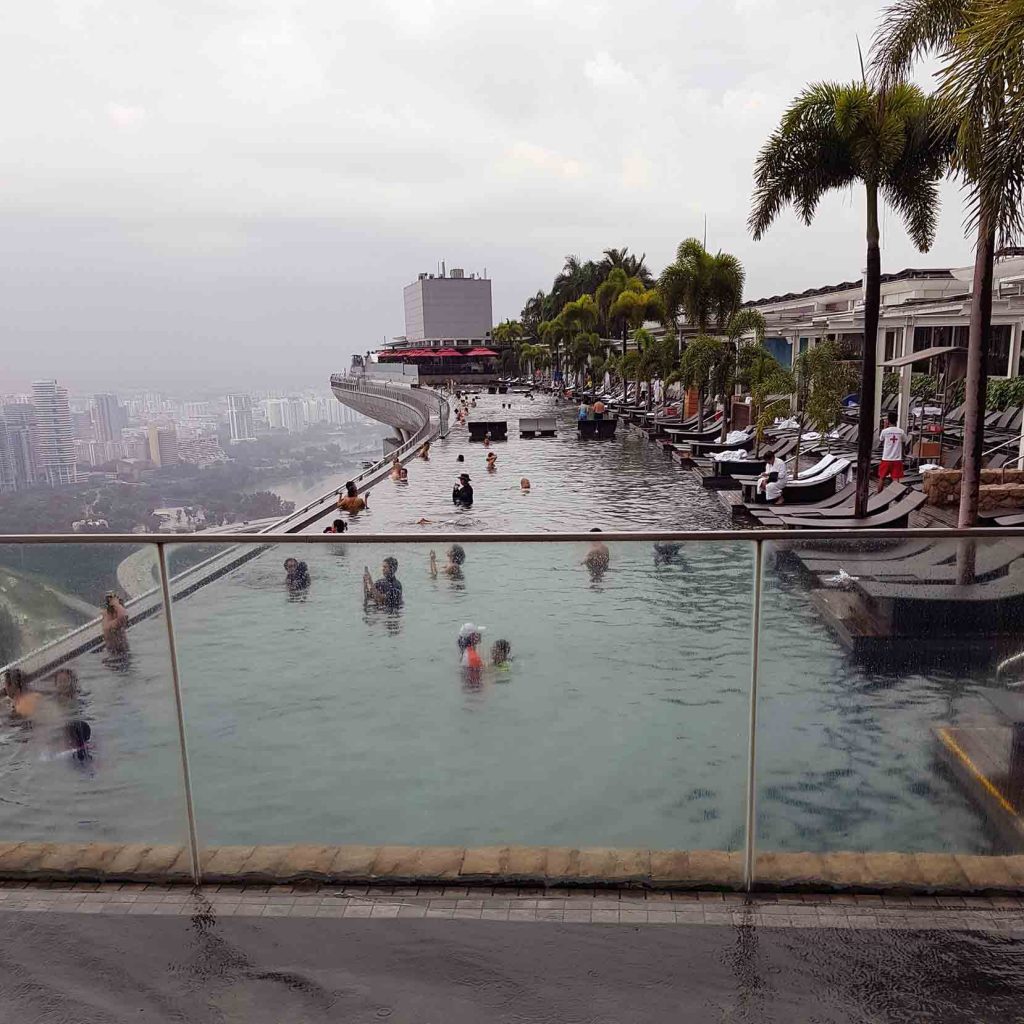 Checking out
If you thought checking out was the easiest task, be alert. Latest time to get out, or better, get inside your room, is 11am, and if they say 11am, they mean 11am.
Before we moved out, we prepared our suitcases and decided to go up to the rooftop pool and observatory deck one more time. When we went back and took the elevator down, we stopped at more floors than usual which let to us arriving to our floor at 11:02. As the key card deactivated automatically at eleven o'clock, the elevator also automatically did not stop at our floor anymore as well.
Our suitcases were still locked inside our room, while we were unable to get inside anymore.

All remorsefully, we had to get down to the concierge and had to confess our mistake. Luckily they seemed to be used to people like us being unable to check out in time and kindly changed our check out time to 11:30. This time we did not dawdle around, went to our room right away and got our stuff.
You can easily check out by dropping off your room keys into a box located next to the elevators in the lobby. There is no need to stand in line and waste your time. Just walk out.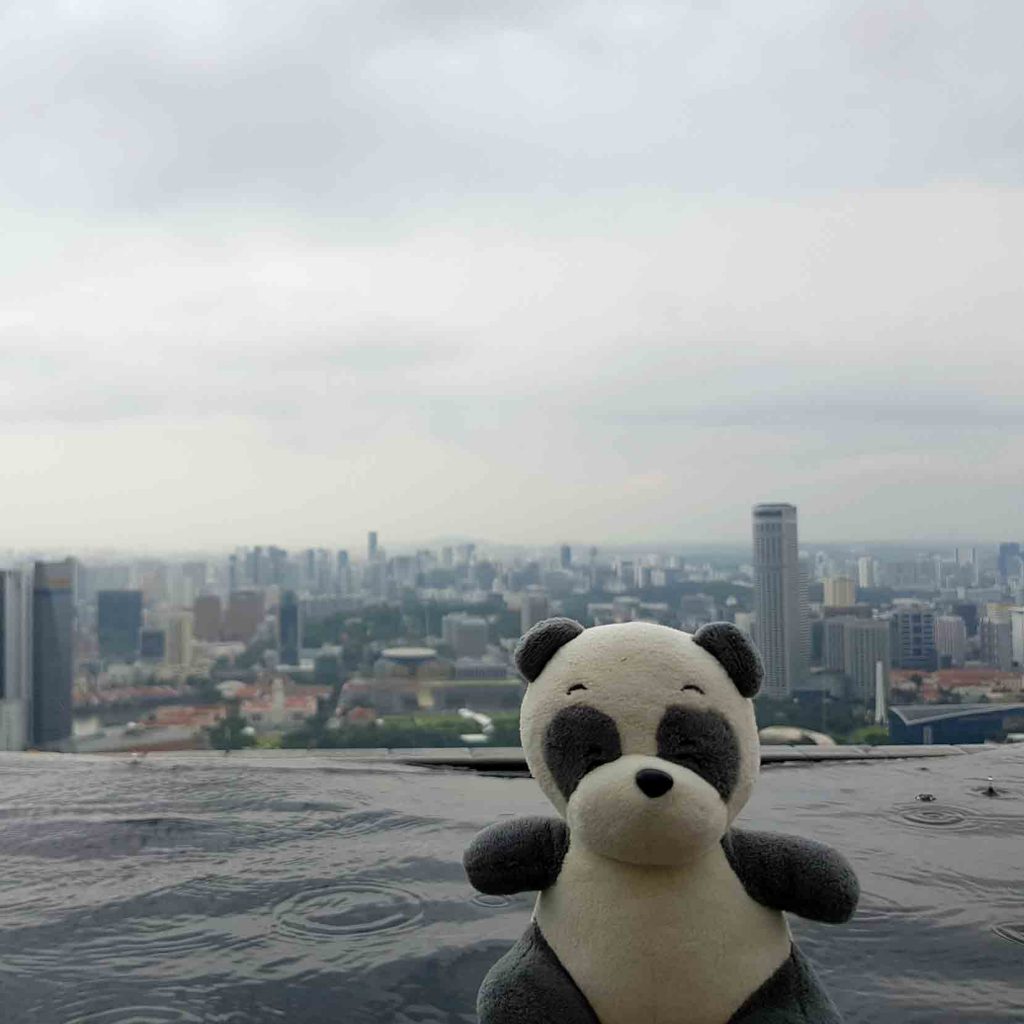 How did we like our stay?
When we decided to travel to Singapore we agreed right away to stay at Marina Bay Sands at least for one night. We wanted to check out their infinity pool so badly. At first, when I researched online, I read divided opinions. One half was enchanted by the hotel, the other regretted their stay and would not go back ever again. Therefore we decided to make up our own minds.
After a little throwback when we booked our room (the tax was added to the room rate only at the end), we still were excited when it was time to check in. We were overwhelmed by the gigantic dimensions of the building and the interior.
The room as normal sized, not overly big (but larger than the average Singaporean hotel room), but the king size bed as well as the bathroom were convincing. I was surprised that the bathroom was clean and included a really nice bathtub as well as Japanese style toilet.
Against reviews I read beforehand, our room was thoroughly cleaned. While we were at the pool, someone came and tidied up, changed the towels and refilled the items we already used. The drink selection was satisfying as well.
All in all it was a pleasant stay with a breathtaking view from the rooftop. It was also the first time I had done hipster Instagram-worthy photos of myself. If I ever become rich and less stingy, I will definitely stay there once again.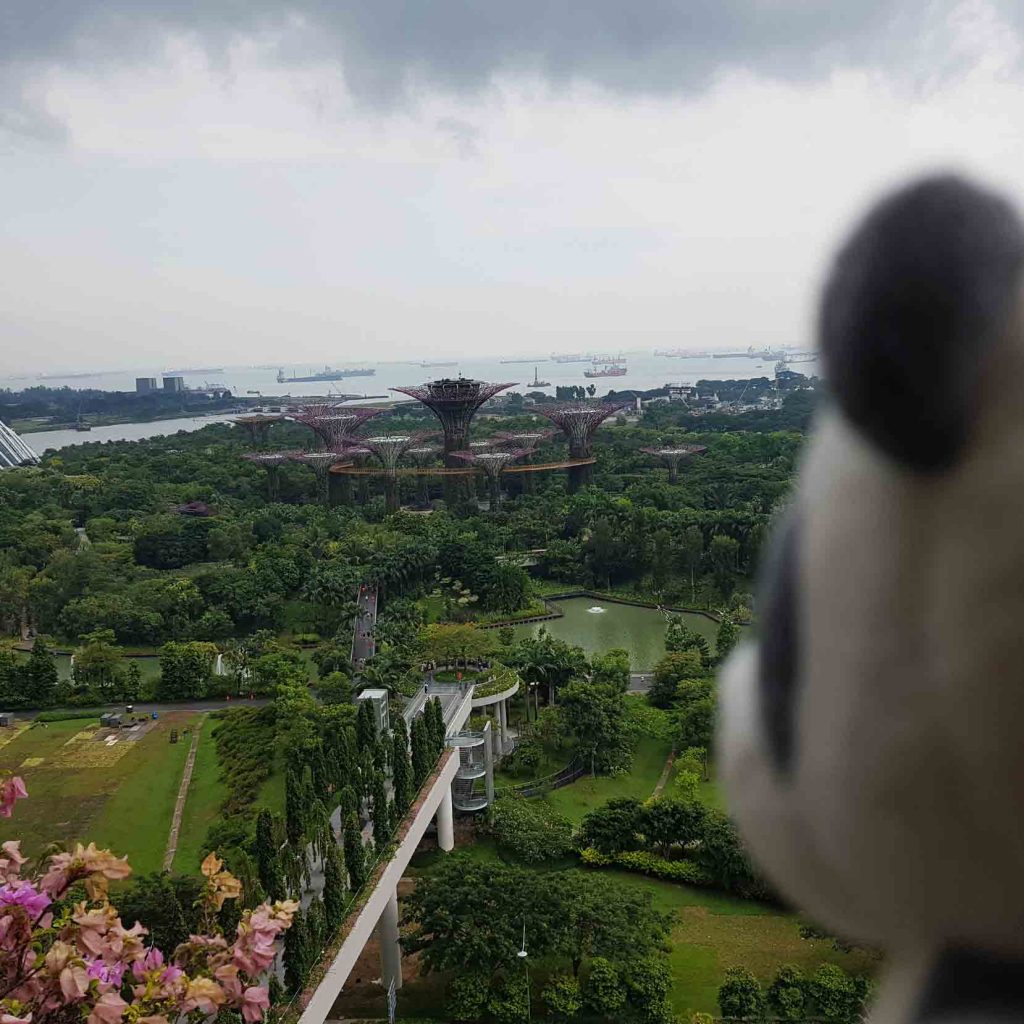 Mister Wong's Special Insider Tipps
Book your stay on their official website. They promise to offer you the best deals.
If possible, book your stay on a weekday and not on a national holiday and even less if there is a festival on that day. Marina Bay Sands and whole Singapore in general was less crowded on weekdays.
Do not forget that taxes will be added to your room rate.
If you book last minute, check the weather forecast and watch out for thunderstorms beforehand.
Make use of the infinity pool as much as possible. This is probably the main reason you are staying at Marina Bay Sands anyway.
Try to check in early. Sometimes your room is already available before 2pm.
Check out in time or you will not be able to get inside your room after 11am anymore and need to go whine to the concierge.
Are you looking for a guide book for your Singapore Trip?*
I always prepare thoroughly for my trips and try to find the right mix between standard landmarks and secret travel tips from blogs. A good start are always sophisticated guide books. Maybe you can even find them at your local library.
Liked what you read?
Even if not, please share my story and follow me on all my social media accounts like Instagram, Facebook, Twitter or Pinterest where I only seldom post anything of importance because of major procrastination attacks. At least I plan to post something useful occasionally.
Instagram → https://www.instagram.com/where.is.mrwong/
Facebook → https://www.facebook.com/where.is.mrwong/
Twitter → https://twitter.com/where_is_mrwong/
Pinterest → https://www.pinterest.at/whereismrwong/
Please Support me!
At the moment I am paying for everything surrounding my blog by myself. If you like what you read, I would really appreciate it if you would book your hotel over the booking.com box. When you do I will get a tiny commission at no extra cost to you which will help me to maintain my website. Thank you!
* This post contains affiliate links. You you buy something with these links I will get a little commisson at no extra cost to you which helps me keep my blog running.