Mister Wong at Café Central
When my friends from overseas come to visit me in Vienna, I am always eager to show them one of the many traditional coffee shops, or as we say "Café" in German, here in Vienna.
Some time ago my good friend from Japan came to visit me. She brought a Japanese travel guidebook with lots of recommendations and must-sees here in Vienna and where to go as a tourist. Although I, as a long-time adopted Viennese, try to avoid those overcrowded tourist places. Because she really wanted to visit the over 140 years old Café Central at Palais Ferstel in the first district. And of course we did.
Beautiful architecture with lots of details
After some waiting time we finally got a great spot next to the window. They are by far the most beautiful ones and offer the best view to the beautiful architecture of the palace where the coffee shop is located. Those spots are normally also well lit because of the natural light which comes through the window.
Go for cake, not for coffee
They offer nice pieces of cake, which are not too big, as well as seasonal special. We decided on a Black forest cherry and a light spring taste raspberry cake. Both of them were really delicious. Traditionally you drink coffee, a Wiener Melange (white coffee) or a Verlängerter (coffee diluted with water, similar to an Americano) to your cake. The coffee at Café Central though is not really tasty at all and you will do better with a hot chocolate or juice.
Be prepared to wait a little
As the Café Central is one of the most famous traditional coffee shops in Vienna, you can find it in any guidebook. Therefore there are long waiting lines in front of it almost every day. The waiters and waitresses are very fast though so that you normally get a table pretty fast. If you are used to the US service industry: the waiters are not unfriendly, their behaviour is normal for Vienna.
Anyway, Café Central is still worth the wait. The pompous architecture inside is so beautiful and worth a photo or two. And do not forget to get on of the cakes which are not only pleasant to the eyes but really tasty as well.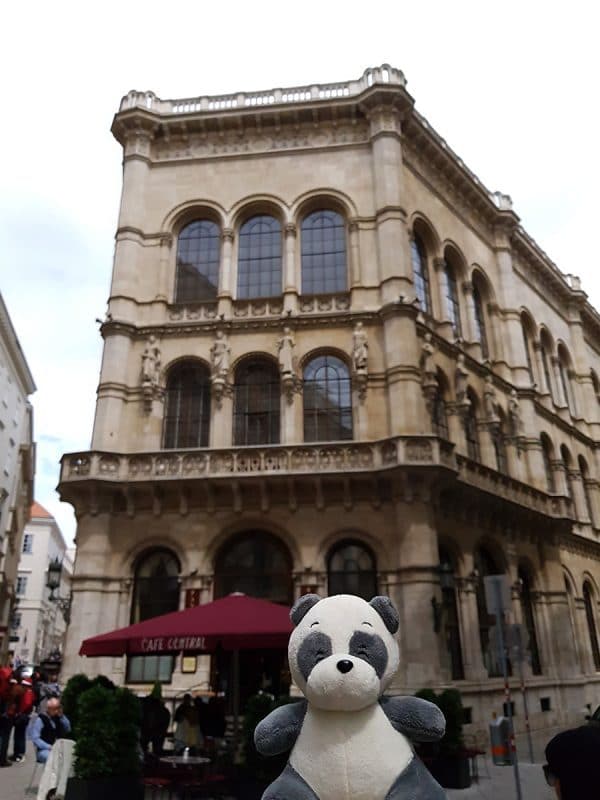 Mr. Wong's special insider tips:
Keep in mind, that long waiting times are possible. If possible you should go there on a weekday and avoid mealtimes. If the line is long, you have to wait outside. So if you go there in winter, wear warm clothes.

Try to get a table at the window, they are the nicest spots.

Do not order coffee, it just does not taste good. Get a cocoa, juice or water instead

If it is to your taste, decide on a seasonal cake. As the name says it is limited to a certain time of the year.

If you are alone, grab one of the free newspapers to pass the time like a real Viennese.
Liked what you read?
Even if not, please follow me on all my social media accounts like Instagram, Facebook, Twitter or Pinterest where I only seldom post anything of importance because of major procrastination attacks. At least I plan to post something useful occasionally.
Instagram → https://www.instagram.com/where.is.mrwong/
Facebook → https://www.facebook.com/where.is.mrwong/
Twitter → https://twitter.com/where_is_mrwong/
Pinterest → https://www.pinterest.at/whereismrwong/